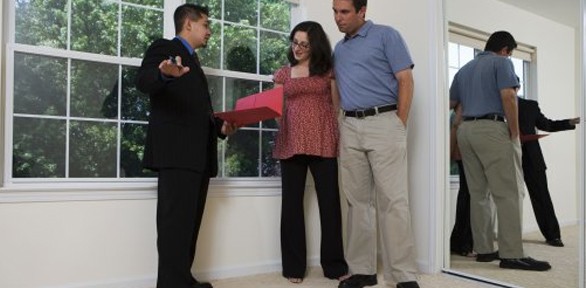 Reader Question: Our work took us to a new city. We chose to wait to buy again until we were familiar with the neighborhoods. We know now where we want to live, but have yet to find an agent who is proactive. We don't understand why we are not getting their attention, as we are in a hot market. How do we get more cooperation? Martha and Jared H.
Monty's Answer: While there are several possibilities because you state your market is "hot", most real estate agents there are likely participating in a stringent "double interview" process with potential buyers. Agents are interviewing/screening hard because they do not want to lose time with a buyer they perceive as unqualified, unrealistic or uncooperative. The inventory of homes becomes depleted in a hot market, multiple offers common and buyers gravitating toward the location. Many agents are seeking motivated buyers, well qualified and with a deadline to move.
It takes two to Tango
Even though, you are qualified there still may be a communication problem. Real estate agents may find it easier to walk away than spend time with a non-compliant buyer. Non-compliance in an agent's view could be a buyer repeatedly "not having time" to meet with a lender for pre-approval. Another red flag is a buyer unwilling to share their "maximum spend" in the belief that doing so negatively impacts a future negotiation. Or, a buyer that has a "maximum spend' that is below the new listing prices driving up the market, but wants to keep looking in that neighborhood, rather than switching locations. Both parties are complicit.
Switching tactics
Customers may not be aware how many agents operate in a hot market. One way to defeat the "hot market" syndrome is to switch tactics. Digging deeper into what is going on in the neighborhood can sometimes pay dividends. There can be homes that remain unsold throughout the maelstrom occurring around them. Consider seeking homes that have been on the market for extended periods of time.
Agents may unconsciously neglect these homes because there is a greater risk of failure at some step in the transaction. The lender is nervous, an inspection results in a doomsday outlook or the buyer gets cold feet. On the other hand, while they may be "tulip" listings (they come up every spring) these homes may belong to a motivated seller who has not yet seen the light. Their agent may not know what should be done to enhance the chances of a sale, or too busy to do the extra work involved.
Depending on the nature and the extent of issues that will turn many would-be buyers away, a good contractor, designer or handyman can refurbish or replace the problem. Sometimes a busy street can be softened with landscaping or fences. You may have to get creative. The big issue with these properties often will be a non-compliant seller. They remain in denial about value even after coming to understand a thirty-thousand dollars foundation repair is necessary to get the home back to market value.
Understanding their work can reduce anxiety
Another helpful suggestion is to learn more about the real estate agents job. Customers can get so focused searching it is easy to lose sight of the fact other customers are vying for attention. Knowing about their work and realizing they may have a dozen or more families somewhere in a similar process can help establish a working relationship.
A daily checklist
Here is the work an agent does (or could do) daily:
Find customers by prospecting in a variety of ways
When they find one, they must learn the customer's needs
Compete with other agents to secure a relationship with the customer
Show homes and conducting area tours
Prepare and present listing presentations
Prepare broker price opinions for potential sellers (BPO)'s
Stay in touch with potential prospects
Follow up with the details of pending transactions
Draft offers to purchase
Present offers to purchase to sellers
Handle counter offers between buyers and seller
Negotiate on behalf of the parties to reach an agreement
Counsel customers on financing options
Coordinate other service vendors supporting real estate transactions
Hold open houses to generate activity
Take "floor time" in the office – responding to walk-ins and ad calls
Attend a variety of meetings
Conduct MLS computer searches
Be current with community changes; zoning, school boundaries and more
It is easy to see why successful real estate transactions require good communication, competency, and trust.