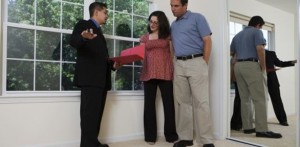 Reader Question: Monty, we have good jobs and our employment appears solid, so we want to buy a home. This may seem like a silly question to you, but here it is: How does real estate work? We have read a number of articles, but this appears to be an elusive subject. What can you tell us? Matt and Leah C.
Monty's Answer: There are no silly questions. It is a thoughtful question, and a good one to ask if you are going to buy a home.
Real estate defined in law is an "immovable object" with a legal description that defines its space and place in our geography. This work is completed by Registered Land Surveyors, who have specialized training on measuring and documenting land parcels. As the United States has grown, most every parcel of the land is surveyed and spatially identified before being designated for eventual ownership. Land ownership records are open and available for all to see.
These records must be updated to keep the chain of ownership current. County government is responsible for recording and filing title information. Title and abstract companies are private companies that search and issue guaranteed reports on these records for a fee. The  rights of ownership also carry responsibilities. Easements, zoning codes, and restrictive covenants that "run with the land" are common for most parcels. Understanding this system can be important when making certain lifestyle decisions. For example, if you want a horse, will covenants or zoning codes allow it? While reading a title policy or zoning code may take time and raise questions, issues are much easier to deal with before completing a transaction.
The multiple listing services (MLS)
Real estate companies began pooling listings in the 1950s. In 1975, the industry adopted a computerized MLS to improve the system further. One of the primary benefits offered by an agent is access to MLS home listings data. Because consumers do not have direct access to this data, the agent has primary control over the process of searching and filtering MLS data under this system. The local MLS data is updated within minutes. The MLS also sells data to aggregators who "bundle it" online as an MLS intermediary. Because the online companies are not as nimble as a local MLS, information gaps and errors are more common online.
The U.S. residential real estate market
The residential real estate industry is one of the largest industries in the United States. There are approximately two million real estate agents representing over one hundred thousand real estate companies. Over a million agents are members of the National Association of Realtors (NAR). There are a number of enterprises that tally residential home sales in the United States. A review of leading reports suggests over one trillion dollars in residential sales volume in 2013. Here is the math; 5,090,000 homes sold x $197,000.00 average sale price = $1,002,730,000,000.
REAL Trends, a leading real estate magazine, reports the ten largest brokerage firms accounted for about 15% of all brokered residential real estate transaction volume in 2013, and the single largest firm accounted for about 8% of total transaction volume.
Some brokerage firms affiliate with national franchise brands, such as Keller Williams, Electronic Realty Associates (ERA), Coldwell Banker, Prudential and RE/MAX. The franchise brands are often part of larger companies who license their brand names and trademarks and provide other marketing support to member brokerage firms.
Real estate offices
The average real estate company has about 2 agents, while the large regional companies have hundreds of offices and thousands of agents. The majority of brokerage firms engage agents to work as independent contractors, and as a result, brokerage firms have limited direct influence over the client relationship or the quality of client service.
Because consumers are not able to gain direct access to MLS information, and consumers will often alter their requirements, there is a risk that agents will misinterpret or omit information consumers could see as important. Could this be one of the reasons real estate generates more consumer complaints of all regulated businesses in the United States except healthcare?
Research from the National Association of Realtors (NAR), indicates that despite the inherent risks, the vast majority of consumers continue to choose an agent rather than going it alone. Dear Monty believes consumers make this choice because going it alone is even riskier and more time-consuming.