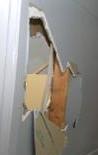 Reader Question: We have a trashed home. My husband and I live on the east coast. Our son attended school in the Midwest, and we bought a home there. We completely renovated it like a new home. After graduation, we hired a management company to rent and oversee the home.
Our manager informed us the tenant moved. We contacted our agent to list the home and she sent over 30 pics of the condition of the home. It is deplorable! The real estate agent had seen the house after the renovation and she was in shock. Many interior doors need replacement, drywall repairs in every room, water damage complete with mold; we must replace all the flooring and much more. Even the furnace has a "danger, do not use, heat exchanger cracked" sign from 2013. We are middle-income folks and don't have the money to fix this home up to sell again. The management company says that the renters wouldn't let them in for the past three months. From the looks of it, this has been going on for some time. What is our recourse with the management company?
Monty's Answer: Enlist your real estate agent's help. If you real estate agent balks, you can either manage it yourself or, preferably, find another agent that will help. Some agents would be uncomfortable with this situation. Aside from opening the door a few times, there is little they will have to do.
Here are six steps to take:
Using the photographs to create a work list of every damaged item. The list should also include items that would require regular updating after a six-year tenant moved out (example: painting walls and trim).
Email the list to your agent and ask her for input as to items to add to the list you may have missed, ordinary wear and tear, and any other comments. The goal is a list of tasks required to bring the condition back to a clean and orderly home.
Now, ask your agent for the names of three proven contractors that have been around with good reputations. You should also go online and search for remodelers, general contractors, and home builders. This tactic is a way to learn more about the agent's recommendations and see if there are other options.
Using the task list, send out a Request For Proposal (RFP) to at least three of them. You want the selected contractor to hire the subcontractors, coordinate the tasks and manage the entire process because of the distance. You want a turnkey project. Here is a list of potential questions to ask a contractor.
Each of them will want to inspect the property, so have the agent remind them to include input as to anything they saw not covered in the RFP when giving them access.
When you receive these quotes, they will all be different. The goal is is to learn if any differences between the quotes are necessary, and a range of what the total package will cost.
Check your insurance policy
When you bought the house and insured it, did you secure landlord insurance? Call your insurance company to see if you have coverage for rental damage. If you are insured it is possible they will cover your losses. Also, starting today, require your next tenant to furnish you proof of tenant rental insurance and instruct the management to verify the policy remains in place.
Seek legal advice
If you are underinsured, it is time to make a decision on the best strategy to handle the management company. Before you contact the management company, you may want to consult with an attorney. If you do not have an attorney in the state, here is a link to an article about finding one. You are already prepared to send them your repair cost, your management agreement, and any conversations notes you made in calls with the management company. Even if your agent has an attorney recommendation, consider talking with three. As real estate agents, all lawyers are not equal.
Now you can decide
With the information you provided the lawyer, you will get a qualified suggestion as to the best path to seek relief here. Did your real estate agent recommend the management company? If so, did they only recommend one management company? I suspect an attorney will have other questions to ask to better understand potential sources of relief, including the tenants or their parents if the tenants are students.