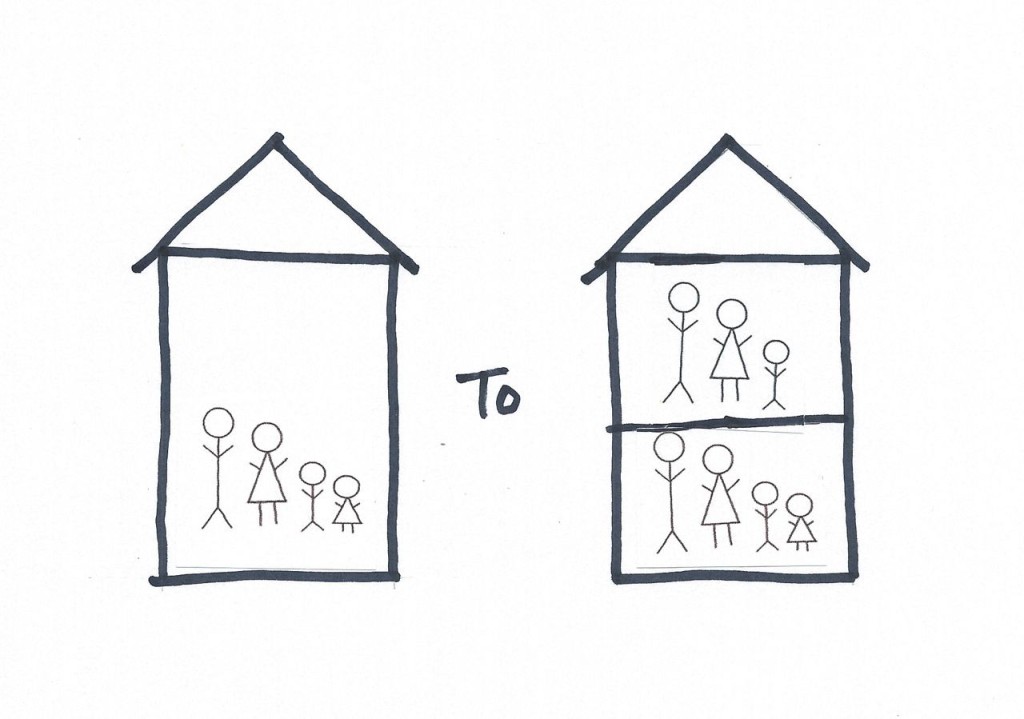 Reader Question: We have been remodeling a single-family country home and right now we are at a point where we have to decide on either a 1 bedroom apartment or extra family room/office. We are looking for the best resell options. We could have a 1 bedroom-1 bath apartment along with a huge 3 bedroom 1 1/2 bath home or we could remodel into 4 bedrooms, 2 1/2 bath with living room and family room. Which option would be best for the current market? This property is in upstate NY. Thanks, Margaret D.
Monty's Answer: Hello Margaret, and thanks for the question. There are many unanswered questions here that make a definitive answer difficult to formulate.
Invest time in research
Consider doing some research to determine the right path to take. "Country home" means something very different in Montana than New York. How many homes are located within a square mile of your home? Go to Google Maps and count the homes. Then, determine how many of these homes have apartments. Contact the planning department of the county in which your home is located to discover how much information they have about housing. They may have already counted the apartment units. It may be surprising how much data is available. Informed decisions are easiest to make with good information. The goal is to learn if there is a demand for rental housing in the surrounding area.
Another path to investigate is a cost comparison between the two options. If it costs significantly more with a change of use, this fact should be considered early. For example, is there a second exit for the apartment if choosing the apartment route? Can separate utilities such as electricity and natural gas be installed to operate a hot water heater and a furnace? If not, issues over who controls the temperature can create turnover in the apartment.
Taking these steps will provide a wealth of information. Assuming the floor plan, construction cost or code issues have not eliminated the possibility of a two family, understanding both the rental market and the re-sale market for single family homes and two family homes is important information to add to the mix. Check out the "for rent" and the "wanted to rent" classified ads in your local advertisers, newspapers and Internet sources. Find a helpful real estate agent with access to the MLS, explain what statistics are needed and enlist their cooperation. A real estate agent with MLS access can find existing rentals plus comparable single and two family homes sales. The goal here is to establish whether or not a property with comparable characteristics sells for more money as a single family, or a two family home.
Does the floor plan make sense?
At the same time, look at the floor plans being creating. One of real estate's biggest red flags is a homeowner remodeling and creating undesirable floor plans. Check with the town or county code administrator to confirm no building or zoning code violations will occur with the change of use. Remember to check out the septic system capacity to insure the system is designed properly for two families. Converting from a single family to a two family dwelling is considered a change of use in many jurisdictions. Some many even require re-zoning the property.
It may be wise to get your floor plans down on paper. Draw a single family home and a two family home footprint, plus a specification list of necessary components.  Then invite a remodeling contractor or two into your home to provide a labor cost and material list to complete the work. This contractor step is more important when considering the conversion route. If it takes 8 months on your own after work and on weekends to complete the task when a contractor and a crew can finish it in 3 weeks, consider the monthly rental value x 7 months when considering do-it-yourself against a contractor.
Me, a landlord
Lastly, consider what skills and tools are necessary to become a landlord. Many people are not cut out to be a landlord as it is not as easy as it appears. Find a course to learn about property management. Judging and qualifying tenants, collection techniques, interpreting contracts and other common tasks require training and education. The local technical college or a private company offering courses about all that property management entails could be helpful in getting off to a good start.