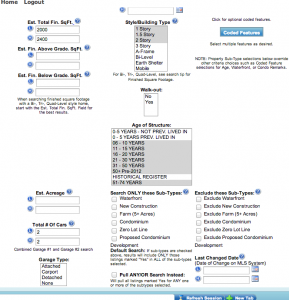 Reader Question: Monty, what market information do we need to help us determine the asking price when we first offer our home for sale? Doug P.
Monty's Answer: Hello Doug, and thanks for your question. The words "market information" infer the question asked is about external market data separate from the data about your home. Asking about the surrounding influences that impact your potential sale price is particularly pertinent. Real estate activity is a marketplace where the Laws of Supply and Demand are very apparent and play an active role.
Being fully informed about how the marketplace is functioning in your neighborhood helps to prepare to render sound decisions. Take a look into the future. Here is the market information needed to make those pricing decisions.
A. Know the number of similar homes currently "for sale" in your municipality. In larger metro areas add similar municipalities in the larger community that homebuyers interested in your home are also likely to investigate. "Similar" means neighborhood, features like bedrooms and bathrooms, square footage and style, such as ranch or two-story as the main criteria to compare. Searching the MLS listings using these criteria will turn up many properties in a wide range of prices.
This first cut should be sifted to drill down to the properties that are closest in features and proximity to your home. Depending on the size of the city, it will be judgment and experience that determine how far to extend the MLS search. In a metro area of 200,000 or fewer people, homebuyers may search the entire MLS. In cities over 500,000 people that will be less likely as travel times become less convenient. You may find few homes (3-6) or 50 or more homes that a potential buyer could consider as direct competition to your home.
B. Identify the number of similar homes that will come on the market during the next 6 months. While they are not "for sale" today, these homes will be competing with your home in the near future. Your agent can determine this by searching MLS history based upon your home's criteria and time periods. Most, but not all MLS platforms have the ability to search in this fashion. Search the upcoming 6 months 2 or 3 years past to learn how many homes came on-stream then. There is a high likelihood it will be similar within the next six months. This can be important because real estate markets are dynamic and often seasonal which may affect your pricing decisions.
C. Identify the number of similar homes that sold and closed during the coming 6 months for the past 3 years. Utilize this data to determine the "sales rate" of similar homes from one year to the next. Assume there were 10 similar homes identified in Section "A", and there are 10 more homes to be expected from Section B, those calculations result in 20 potential competitors. If only 6 sold each year for the past 3 years, it signals an oversupply of homes like yours. A one-month supply is better for a seller than a two-year supply.
While not scientific, this exercise is useful for establishing the initial asking price, gauging dollar amounts and timing for the next price reduction. When an offer comes, should you accept it or make a counter offer? If it is a counter, what is the best counter-offer price? Because this data is at the agent's fingertips, it makes better sense than just using a "gut hunch" to formulate a respond.
Are you helping your neighbor selling, or is it vice-versa?
Pricing your home to obtain the best price is a process, not an event. Your circumstances set the stage for your strategy to expose your home to the most qualified buyers. As an example, do you want to be the first one to sell? Is there time to test the market?
Homebuyers have more information today than ever before, and they are using it to help them narrow their choices. Home sellers can use that same information to help guide their pricing decisions to a satisfactory sale.
Oftentimes, the real estate activity updates in the media offer information that reflects overall MLS activity and sales data averaged out over many neighborhoods and price ranges. When drilling down to your home, the overall market reality can be quite different than the average.